Skip to Content
Advantages of Having a Fleet Manager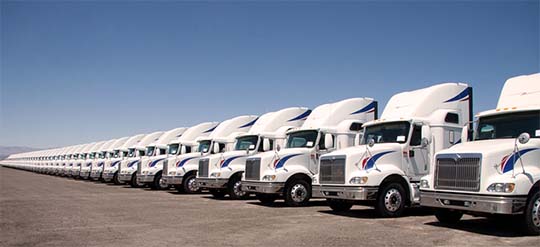 Whether you have a full-time Fleet Manager or a part-time one, it's something to consider no matter the size of your fleet. From fraud prevention to savings on fuel — read on to see if having a fleet manager is right for your business.
What does a Fleet Manager do?
Just like it sounds — a fleet manager oversees and maintains a company's fleet. Tasks include purchasing vehicles, getting all needed licenses, monitoring fuel consumption, watching for theft and fraud, taking care of fuel storage, vehicle maintenance, route management, and driver safety. Those are the primary tasks; there could be more or fewer responsibilities depending on the company's needs.
Let's explore a fleet manager's responsibilities more closely.
Fuel Fraud Prevention
One of the primary jobs of a fleet manager is to prevent fuel fraud. When your fleet manager works with a bulk fuel distributor like Ricochet Fuel, you can increase your manager's effectiveness with fraud prevention systems that include:
Getting the Best Maintenance Deals
A Fleet Manager ensures the maintenance policies, vendors, and mechanics they have in place for repairs and maintenance are the most cost-effective and keeps their fleet in top condition. Like with fuel fraud prevention, being proactive and ensuring you're saving money while maintaining the fleet is of utmost importance.
Stays on Top of Registrations etc.
An essential task of the Fleet Manager is to know when registration and inspections are due. That can save the company from having to pay for unwanted tickets or late fines.
Cost-Effective Supplies
When a part is needed, a good fleet manager knows where to get it, quickly at the best price. Negotiation skills are vital to get bulk discounts and preferred pricing.
High-Quality Control Guidelines
A Fleet Manager monitors the quality of both repairs and parts used. In addition, they have a strict maintenance schedule all vehicles adhere to prevent expensive unneeded emergency repairs.
Taking Advantages of Technology
When your Fleet Manager teams up with a bulk fuel distributor like Ricochet Fuel, you can leverage their technology for efficient fuel tracking, delivery, theft prevention, reporting, on-site fueling, and more.
Driver Monitoring, Training, Certifying
A company's drivers are what keeps everything running. The Fleet Manager ensures competent drivers are hired and they maintain their licenses. They offer up-to-date training and help their drivers be as efficient, safe, and productive as possible.
A Winning Combination
A competent Fleet Manager combined with a bulk fuel provider like Ricochet is the most cost-effective option for many businesses. Here's why. Ricochet offers a turn-key fuel management system that will help cut costs and control fuel consumption and provide the reporting tools the Fleet Manager uses daily. When you team up with Ricochet, we can help you get rid of:
Fuel outages that cost you money
Theft and fraud of valuable company assets
Time wasted on improper inventory management
Unneeded deliveries
Extensive administrative time
Excessive fuel costs and more
Partner With Ricochet Fuel Today
Since 1988, Ricochet Fuel Distributors, Inc. have been supplying bulk fuel and helping their customers save money. We service Texas and Arkansas, Louisiana, New Mexico, Oklahoma plus 16 additional states.
We'd like to make you one of our satisfied customers too. Contact Ricochet Fuel today.
Learn How Ricochet Fuel Can Make Your Job Easier
Call Today for a Risk-Free Fuel Quote:   800-284-2540