Skip to Content
Off-Road Tax-Free Diesel
Dyed diesel is one of the best investments for companies dealing with vehicles frequently off-road. Its name comes from the red dye that marks the fuel recommended for these vehicles. Companies use them for construction, off-road equipment, agricultural vehicles, generators, and more. You'll often find the dye residue in the fuel through black light.
As one of the largest suppliers of dyed fuel in Texas, Ricochet Fuel is your reliable option to get the off-road diesel you need. We use only the best equipment to supply you with premium fuel that can help you run your business. Contact us, save money and learn more about the benefits of dyed diesel.
Ricochet Fuel can provide tax-free off-road diesel in all size quantities delivered directly to your site 24 hours a day, 7 days a week.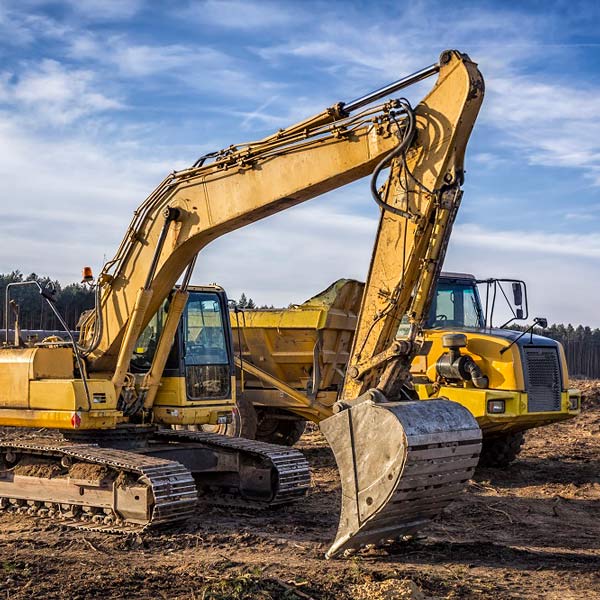 Texas Dyed Diesel Regulations
For off-road use vehicles only, this diesel can be purchased tax-free since it is not intended for vehicles operated on tax-funded roads. Due to its tax-free nature, states across the nation have extra requirements in order to purchase for both buyers and sellers. Texas has a strict set of requirements for off-road diesel purchases companies must follow.
Do I need a Texas-dyed diesel statement to purchase dyed diesel? Yes, if you are storing dyed diesel in a tank. No, if you are using dyed diesel in a generator or directly in equipment.
Ricochet Fuel also offers on-site fueling, fuel cards, on-site tanks, generator fuel, and emergency fuel
Important Dyed Diesel Forms
The Difference Between Clear and Dyed Diesel
Dyed diesel refers to off-road diesel sold in the United States. On the other hand, clear diesel is used by on-road vehicles. The distinction is the color, as off-road diesel uses solvent red 26, regulated by the IRS for off-road use only. On-road diesel has a green dye that makes them distinct.
Clear or on-road diesel has a bright appearance with a slightly greenish color. It will fade to a yellow or darker green when dry. When it comes to using it, the most notable difference is that dyed diesel is for off-road vehicles and equipment. You cannot use dyed diesel on the road as mandated. The reason for this strict mandate is because of fuel taxation.
Tax-free Diesel
Dyed diesel is tax-free, meaning you can get it for much cheaper. The reason for it being so is that it is not paying the road tax required for on-road diesel. Since this diesel isn't for roads, you don't have to pay the tax, and save money while still getting the same quality.
Businesses can save much money by using dyed diesel for their off-road equipment. Are you keeping generators stored for use during severe weather or power outages? Dyed diesel is the best option for you. Many industries can also rely on dyed diesel and save money while increasing profitability. Learn more about how you can get them from Ricochet Fuel.
How to Get Dyed Diesel from Us
Ricochet Fuel Distributors offers bulk fuel deliveries to businesses operating in and out of Texas. Our trucks will deliver the fuel you ordered and handle all the logistics for you. On-site fuel delivery means you'll get the supply you need on time while saving money thanks to your order of dyed diesel. We deliver 24 hours a day, seven days a week.
There is a regulation from Texas that requires businesses to go through dyed diesel fuel applications before they can buy. There is a strict mandate for those using dyed diesel inside fuel tanks for vehicles. However, you don't need to go through the application if you store the fuel directly in equipment like generators.
Ricochet Fuel Distributors is your trusted Texas dyed fuel supplier. Contact us today and begin your application.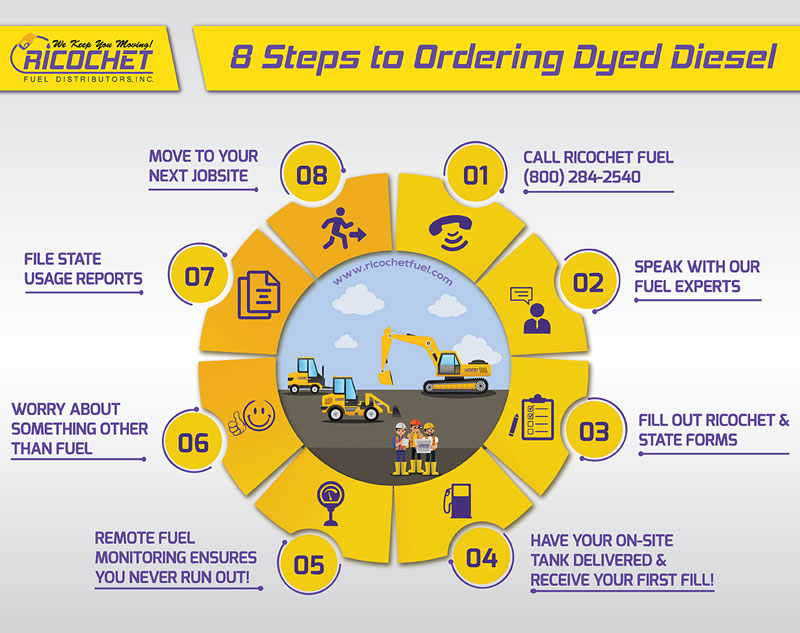 Fuel Supply & Tank Rentals
Ricochet Fuel can supply dyed diesel at an on-site tank, at the pump, or by fueling equipment overnight. Ricochet Fuel can provide on-site tanks in various sizes for your job site, yard, and fleet fueling needs.
Need a tank rental for a short-term project? Need long-term capital? Let Ricochet Fuel Tank Rentals help you out.
Get a Risk-Free Dyed Diesel Quote Today!
Ricochet Fuel will answer any bulk fuel questions you might have and help figure out which services best fit your needs. Give us a call – we are happy to help guide you to the perfect solution!
We Keep You Moving!
Tell us how we can assist you.
Learn How Ricochet Fuel Can Make Your Job Easier
Call Today for a Risk-Free Fuel Quote:   800-284-2540