Skip to Content
On-Site Tanks for Any Job Site
Ricochet Fuel can provide fuel tanks that fit every need. We carry a vast tank inventory for your temporary or permanent fuel needs. With Ricochet's flexibility, we can be your fuel supplier from job site to job site.
We offer single-walled, double-walled, concrete vaulted tanks, and the all-in-one FuelCube. Ricochet Fuel offers tanks to purchase, to rent, or for FREE when minimum monthly usage is met.
Fuel Tanks for Better Functionality and Convenience
Standard bulk on-site tanks not only take up too much space where they are difficult to maintain, but they also pose a significant risk of environmental pollution. Not to mention, they are an easy target for theft. At Ricochet Fuel, our on-site fuel tanks provide a secure, safe and convenient alternative for your business that helps you save money in the long run.
FuelCube
One of our most popular on-site fuel storage solutions is the FuelCube. This innovative container offers a variety of benefits, such as increased portability, security and an all-in-one fuel storage solution with an included pump, lockbox and containment system. With its double-walled stationary design, our FuelCube is perfect for refueling heavy machinery directly or as a fuel supply backup.
Unlike traditional and bulky fuel tanks, our FuelCubes are designed to fit in small or irregular spaces. These tanks can also be easily moved by a forklift, eliminating the need for fuel trucks to refill them. This makes the FuelCube an ideal solution for businesses located in weather-prone areas and sites with limited space.
TransCube
A DOT-approved transportable tank, the TransCube is similar to a FuelCube in many ways. This container is also a double-walled mobile fuel tank and can support up to three pieces of equipment while dispensing fuel by a manual or electric pump. This provides an added level of convenience and flexibility for businesses that rely on frequent fuel supply changes. The transportability of the TransCube also makes it a great asset for businesses that need fuel storage and transport solutions. Compared to FuelCubes, TransCubes have four-way forklift access, which significantly increases the ease of movement providing one easy solution for fuel storage, transportation, and dispensing.
Choose Ricochet Fuel for Your On-Site Fuel Storage
Convenience and accessibility are two of the most important things for businesses that heavily rely on fuel. With Ricochet Fuel, you can get quality fuel storage solutions that best fit your needs and budget.
Our on-site tanks are designed to give you maximum efficiency, security, and convenience for your business operations. From preventing theft and saving on fuel costs by buying bulk to ensuring quality fuel supply, Ricochet Fuel can provide the best on-site fuel storage solutions for your business.
Get in touch with us today and get a risk-free quote to start saving money and energy with our fuel storage solutions.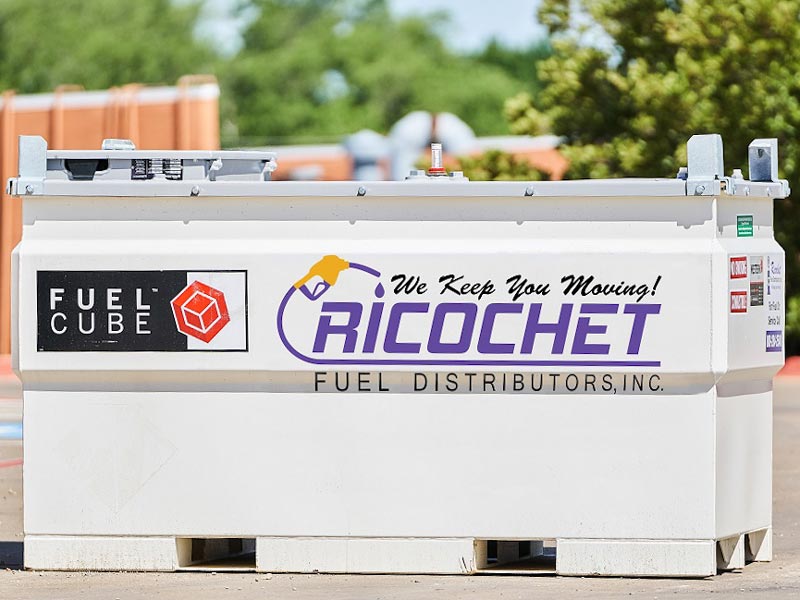 Get a Risk-Free Fuel Tank Quote Today!
Ricochet Fuel can supply dyed diesel at an on-site tank, at the pump, or by fueling equipment overnight. Ricochet Fuel also offers – on-site fueling, fuel cards, on-site tanks, generator fuel, and emergency fuel.
Ricochet Fuel will answer any bulk fuel questions you might have and help figure out which services best fit your needs. Give us a call – we are happy to help guide you to the perfect solution!
We Keep You Moving!
Tell us how we can assist you.
Learn How Ricochet Fuel Can Make Your Job Easier
Call Today for a Risk-Free Fuel Quote:   800-284-2540