Skip to Content
Fuelcubes: All-in-One Fuel Storage Solution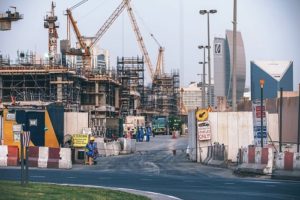 Do you run a construction company, job site, or a business with a fleet of vehicles? If so, FuelCubes could be a valuable resource for your fuel-reliant business and its particular needs. They're not only a time-saving convenience for busy contractors, but they're also a way of dealing with weather emergencies and costly security issues. Read on to learn what FuelCubes are and how they can keep you running at peak capacity regardless of the unexpected troubles you encounter in your workday.
Traditional Bulk Fuel Tanks
If your business has a fleet of vehicles or if you have essential power generation needs, you may be familiar with bulk fuel tanks and their benefits. Fuel tanks allow your employees to fuel their equipment and vehicles on-site, reducing labor and paperwork. They save time by eliminating hours each month wasted by having to find a gas station, stopping to fuel up, and standing in lines. The bulk fuel tank also helps your company save money by purchasing fuel at bulk prices.
Sometimes, though, the traditional tank doesn't go far enough, or there are special fueling needs it can't meet. In those instances, that is where the FuelCube comes in.
What is a FuelCube?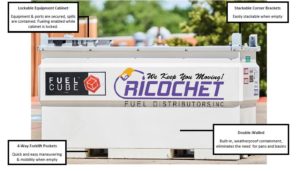 A FuelCube is a stationary fuel tank built to fuel onsite equipment and is a reliable backup fuel source.
Compact – Its compact size makes it a space-saving solution, and it's stackable if you need more than one. Each cube has forklift pockets making it easy to move. When they're empty – stack them to save even more space.
Secure – Additionally, each FuelCube is lockable, making your fuel safe from unauthorized users. So, you won't need an additional lockbox.
Safe – You won't need extra spill pans either because they're double-walled and environmentally safe.
There is also an alternative called a TransCube, that has all the same features as a FuelCube but is DOT approved and completely transportable.
Both the FuelCube and TransCube have removable inner tanks and are double-walled to protect against leakage. Additionally, they both have lockable equipment cabinets. This security feature is essential to eliminate theft and to keep unauthorized personnel from using your fuel.
Check out the complete list of features for the FuelCube.
What are the Advantages of a FuelCube?
You can install these cubes in smaller spaces than a regular tank.
Plus, instead of a fuel truck coming to refill your container, they can be lifted and moved by a forklift.
That convenience is a valuable solution for these types of sites:
Weather-prone locations like construction sites where excess rainfall can make entry to the site difficult.
Irregular sites with space issues, making it difficult for fueling trucks to access the tanks.
FuelCubes can fuel onsite machinery as well as dispensing fuels for other uses. That convenience gives you more control over your time and money.
If you have a business with onsite fuel needs, consider the FuelCube and Transcribe. Not only will you save money with bulk fuel, but you also get fuel exactly when and where you need it. It's an all-around time, cost, and labor-saver.
Trust Ricochet for your FuelCube Needs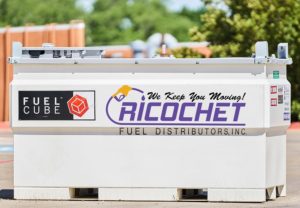 With over 30 years of experience and hundreds of truck fleets throughout the United States, we know how to ensure value and quality to our customers. Let Ricochet deliver high-quality FuelCubes to your location.
Ricochet Fuel can provide diesel fuel delivery directly into your vehicles, tanks, or equipment 24 hours every day, 7 days a week, 365 days a year. We can work on a schedule that best fits your operation.
Contact Ricochet Fuel today to see how we can help you with your portable fuel needs.
Learn How Ricochet Fuel Can Make Your Job Easier
Call Today for a Risk-Free Fuel Quote:   800-284-2540