Skip to Content
What's Included When Using Ricochet Fuel for Your Bulk Fuel Needs
Fuel is essential to many companies across many different industries. With over 30 years as a premier bulk fuel supplier, Ricochet Fuel focuses on servicing the needs of companies in Texas and sixteen other US states. There are many good reasons and "no charge" additions to use Ricochet for your bulk fuel. If you're looking for bulk fuel suppliers in your area, here are the Top 7 Reasons to choose Ricochet Fuel for your bulk fuel needs.
Track Fuel Usage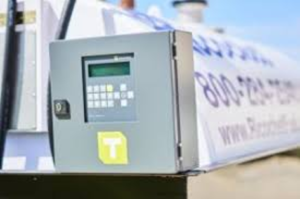 Efficient fuel usage is a crucial part of maintaining a profitable fleet or productive work-site. Ricochet's fuel tracking makes this possible by allowing you to control fuel in several important ways.
First, we offer customized touch-pad entry so you can specify things like:
Individual
Department
Vehicle
You're also able to specify authorized users and eliminate unapproved use of your inventory, or you can set limits on how much fuel can be dispensed per transaction. With secure pump access, concerns over who is using your fuel are eliminated.
You can also issue personalized numbers and categories, so your reports dovetail with your current data setup. With fuel tracking, you can analyze and implement strategies to trim waste from your day-to-day operations. With our quality support team, assistance is available when you need it.
Free Cellular Tank Monitors
Eliminate downtime and prevent unexpected delays by monitoring your fuel. Our complimentary cellular tank monitors keep your operation running at peak capacity around the clock. No matter where you are, you can observe fuel levels even on your mobile device.
We offer email or text alerts for critical events, and you can also trigger automatic tank refuels so you never run out. Access to historical data allows you to track usage trends, fuel levels, and delivery quantities for any time period.
We can also customize settings to fit your needs, such as convenient reminders to call for a P.O. number. Save time by avoiding the hassles of manual refills. Save money by only ordering when you need it. Spend less time managing fuel and more time being productive.
24/7 Dispatch
Located in Euless, Texas between Dallas and Fort Worth, we service the entire Lone Star State plus sixteen other states throughout the continental US.
Contact us at (833) 925-5065 whenever you have a bulk fuel need or questions about what we can do for you.
We're here Monday through Friday from 8 am until 5 pm, but our dispatch team is on call 24/7.
After business hours, our dispatch number will connect you to the on-call staff who will answer your questions and get you fueled up as soon as possible, with same-day delivery available in many areas.
Questions about tanks and other options will be returned on the next business day.
We want to be your bulk fuel supplier so call us day or night when you need us.
Free Tank Rental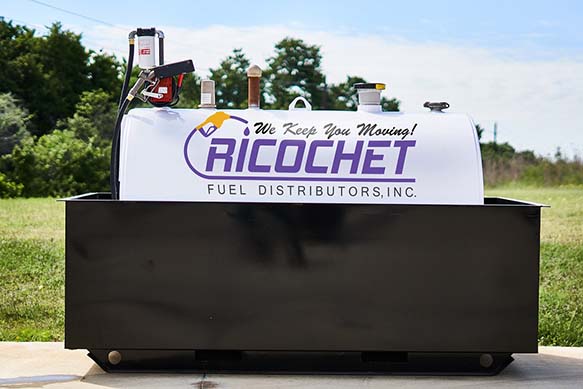 Whether your operation is large or small, we can help you with our extensive inventory of onsite fuel tanks.
Are you situated on a job site where you need a temporary tank? Or do you need a permanent fuel tank for your business location? In either case, we can help you.
We have a variety of tanks available including:
single-walled
double-walled
concrete vaulted
UL142
UL2085
Sizes range from 275 to 20,000 gallons. We even have propane and diesel exhaust fluid tanks for EPA compliance.
Plus, our tanks are available both for purchase and for rent. In fact, if your volume requires a twice per-month refill, you may qualify for free tank rental. Our wide tank selection and free tank rental are more ways Ricochet helps you save time and money.
Pump Lock Boxes Available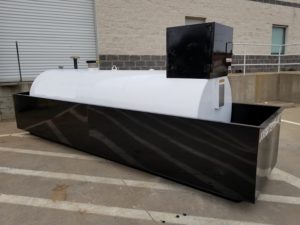 Loss of inventory through theft can be a problem no matter where you're located. Ricochet focuses on your peace of mind by helping to minimize fuel theft.
Even in the most secure areas, fuel loss issues can waste inventory and drive up costs. The time and expense required to supervise your pumps and eliminate tampering or unauthorized use are not cost-effective.
With pump lock boxes, however, concerns like theft are a thing of the past. Your pumps will be secure and cannot be accessed without a key that you assign. Choosing who can and can't pump fuel is another essential control for a busy operation.
Variety of Pumps
When it comes to fuel pumps, quality is crucial. You want to ensure your fuel dispensing equipment is rugged, dependable, and built to withstand years of use. With Ricochet as your bulk fuel supplier, that's not a problem.
And we've got a vast array of options to choose from. Like Piusi 12v/120V 15GPM pumps with auto nozzles, standard on 500g tanks. Or Piusi 12V/120V 20GPM with auto nozzles that are standard on 1K and 2K tanks.
There are upgrades available for 12/24v continuous duty and 25GPM 120V continuous duty, as well as gas-powered pumps for an additional cost per month. We can also bill the difference between the standard setup and the upgraded pump cost. If you need a pump for Diesel Exhaust Fluid, you're covered.
Versatile Fuel Cubes
Another option for our customers' fuel needs is the Fuel Cube. These are all-in-one fuel tank solutions that include: pump, security, cell monitoring, and easy mobility. Plus, they've got a rental cost that's very affordable.
Since pumps get locked into the cabinet, it helps to deter theft. And these self-contained fueling setups require less space than conventional fuel tanks. So, they're perfect for small sites or locations with irregular/inconvenient space issues.
You can also use them as a back-up fuel source if needed. In addition to the fuel cube, we offer the Transcube. This tank can dispense manually or with an electric pump while operating up to three pieces of equipment. It's double-walled, and transport approved. Both the Fuel Cube and Transcube are versatile and convenient.
Contact Ricochet Fuel Distributors Today
Whether you are interested in our fueling tracking and monitoring, or our quality storage and equipment options, Ricochet Fuel would be pleased to become your bulk fuel supplier. Our service is top quality. And, the benefits we offer add up to convenience, control, improved analytics, and support for you. Contact us today to talk about a custom solution for your business, including fuel monitoring and automatic refueling, so you have one less thing to worry about.
Learn How Ricochet Fuel Can Make Your Job Easier
Call Today for a Risk-Free Fuel Quote:   800-284-2540