Skip to Content
Top 5 Reasons to Have an On-Site Fuel Tank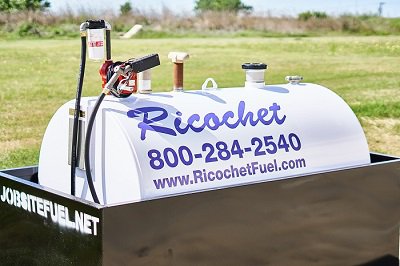 Details are everything when it comes to successfully launching your next project. One missed step can be a major mess. One smart move can save your company big.
Cross one important detail off your list with an on-site fuel tank.
Today's post from Ricochet Fuel features five reasons why an on-site fuel tank might be the smart solution you are looking for to guarantee a job well-done.
Convenience
If time is money, there's no question: The convenience of an on-site fuel tank is more than just a preference, it's a money saver for your business. Skip traffic and long lines at the gas station with a ready-to-go tank placed at your next jobsite.
Control Variables, Control Cost
Don't let shifting fuel prices catch you off guard. Purchasing fuel and storing on-site eliminates a major financial risk factor, allowing you to sleep easy knowing your numbers will stay on target.
Monitor use
An on-site fuel tank is perhaps the easiest way to carefully monitor the amount of fuel being used on a day-by-day basis. Cellular monitors can be readily added to any standard setup package.
Customization is key
What does a standard setup package contain, anyway? The team at Ricochet Fuel will set you up with the equipment you need for your project:
12v or 115v fuel pump
12' hose
Manual nozzle
Site gauge
Filter & filter base
Locking fill cap
Tanks are available for loan or rent ranging in size from 275g to 12,000g. All attachment pieces can be customized to fit your needs.
The support your need
Investing in an on-site fuel tank from Ricochet Fuel is an investment in a team of experts who specialize in fuel.
"We will certainly help out wherever needed," explained Operation Manager Cass Roberts, "Whether that's answering questions or pointing them in the right direction."
Want to take another detail off your worklist? As a bonus, Ricochet Fuel provides monitoring and dispatch services for customers.
Get started today
Customizable and convenient, there's no question that for an on-site tank might be the solution your company needs.
Find the perfect tank for your project with the help of Ricochet Diesel. Contact us today at (833) 925-5065 or www.ricochetfuel.com
Learn How Ricochet Fuel Can Make Your Job Easier
Call Today for a Risk-Free Fuel Quote:   800-284-2540