Skip to Content
4 Reasons to Partner With Ricochet for Your Diverse Spend Goals
Throughout history, women-owned businesses have been the front and center of building our great country. Check out these inspiring examples:  In 1875 Lydia Pinkham launched her herbal home remedies business, in 1910 Coco Chanel transformed fashion,  1932 Olive Ann Beech co-founded Beech Aircraft Corp, 1946 Estée Lauder brought exquisite perfumes to the women of the world, 1950 Brownie Wise transformed Tupperware by suggesting home parties, 1951 Lillian Vernon was the mail-order queen, and in 1988 our own founder Kelly Brett Roberts started Ricochet Fuel. Besides making your mom proud – here are our top 4 reasons to partner with us for your diversity spend goals.
#1 Promotes Inspiration Innovation and Creativity
Let's start out with the point that supporting and partnering with Ricochet as a local women-owned business promotes that if you have a dream – you can make it come true. Our founder, Kelly Brett Roberts is a good example of that. She started Ricochet Fuel over 30 years ago and has not only survived but flourished and expanded in a male-dominated industry. When you team up with Ricochet, you're supporting innovation, creativity, and inspiration for all businesses. That's especially important when more and more people are following the American dream to own their own business.
#2 Shows Your Interest In Diversity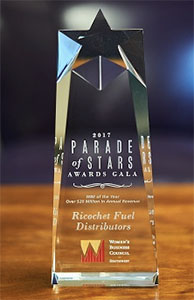 A key success point of diversity is hard work. You can't be a success without it. And that's why Certified Women's Business Enterprise is one of the fastest-growing companies in the country.
Whether you're supporting women-owned businesses or minority-owned businesses – you're supporting your community and the ideals that if you work hard, apply yourself, and hold yourself to a high code of ethics you have a good chance of succeeding.
And the sector doesn't matter – it's the intention to succeed that makes a difference.
When Kelly first started Ricochet, she pulled from her experience in the field as a sales rep in the fuel industry. That this was a male-dominated industry didn't faze her and 30+ years later her business is bigger and better than ever.
#3 Can Give You Tax Incentives
Who doesn't love federal government tax incentives? When you partner with minority-owned suppliers you can receive tax breaks from Uncle Sam. If your business uses a woman or minority-owned business as a supplier, our US government will give you tax breaks. You can also reduce taxes even more if you use these suppliers in a federally funded project. New tax incentives come and go every year so ask your accountant. Also, check for any local city and county incentives.
#4 Meet Other Great Suppliers
Minority-owned business owners know other diverse suppliers that may be a great fit for your business. Referral relationships are some of the strongest you can build for both being a supplier and being a client. Hard-working businesses appreciate your business and oftentimes offer increased savings and special deals for their customers.
Locally these connections can have an even greater impact. And by supporting these businesses you are assisting in growing our economy and helping a fellow business owner.
Women-owned Ricochet Fuel is here to meet your company's needs. That includes equipment, experience, services, and quality fuel. We service Texas and the surrounding states of Arkansas, Louisiana, New Mexico, Oklahoma, Georgia, Iowa, Kansas, Missouri, Ohio, Pennsylvania, South Carolina, and Wisconsin. We want to make you one of our satisfied customers too. For your bulk fuel needs, contact Ricochet Fuel today.
Learn How Ricochet Fuel Can Make Your Job Easier
Call Today for a Risk-Free Fuel Quote:   800-284-2540