Skip to Content
Quick Fuel Locations Now Added to the Commercial Fueling Network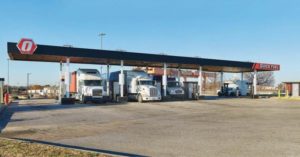 Flyers Energy, LLC (http://www.flyersenergy.com/) announces that it will connect 49 Quick Fuel Automated Fueling (http://quickfuel.com/) locations to the Commercial Fueling Network (CFN) (http://www.cfnfleetwide.com/), a FLEETCOR company; giving Quick Fuel Advantage customers access to more than 57,000 sites nationwide. Acceptance of the CFN Fleetwide card at Quick Fuel locations began May 1st.
"Bringing Quick Fuel on the CFN network is part of our eastward expansion. We are building ground-up cardlocks as well as looking for opportunities to purchase existing sites east of the Rockies to fill out coverage across the country," said Kris Kanak, Director of Automated Fueling for Flyers Energy. Flyers Energy purchased Quick Fuel Automated Fueling from Jacobus Energy in 2018.
"The Quick Fuel site network is a tremendous strategic fit for CFN," said Al Norris, CFN Vice President. "The addition of the Quick Fuel sites to the CFN network strengthens our presence in the Mid-Continent and Midwest regions of the U.S. and sets us up for future growth opportunities. Our cardholders will gain access to 49 premier facilities, with state-of-the-art fueling equipment –– all located along major commercial corridors."
In conjunction with the site conversion, Quick Fuel Advantage cardholders will be upgraded to the new Quick Fuel Advantage CFN card which offers a full array of purchase controls and security features, helping fleets control their total fuel expense.
About Quick Fuel
Quick Fuel is a standalone cardlock network in 15 states with fueling locations in major transit markets including Atlanta, Dallas, Indianapolis, Detroit, Charlotte, Kansas City, Tampa, and Milwaukee. In addition to the CFN card, the sites currently accept all major fuel network cards and credit cards.
About Flyers Energy
Flyers Energy, LLC operations include transportation, commercial fueling, distribution of Mobil™ lubricants, supply of wholesale and branded fuel, and generation of renewable fuels and power in the United States. Flyers is the largest participant on the CFN network.
About the Commercial Fueling Network (CFN)
The Commercial Fueling Network (CFN), a FLEETCOR company, is a preeminent leader in commercial card lock fueling with over 2,500 branded locations in the U.S. and Canada. Through a CFN affiliation, petroleum marketers can offer commercial fleets an integrated fuel card that provides industry-leading purchase controls and access to CFN card lock facilities, in addition to a truck stop and retail locations via FLEETCOR's Fuelman network. To learn more about CFN, visit www.cfnfleetwide.com.
SOURCE Flyers Energy, LLC
Learn How Ricochet Fuel Can Make Your Job Easier
Call Today for a Risk-Free Fuel Quote:   800-284-2540