Skip to Content
Stress-Free Fuel From Ricochet Fuel Distributors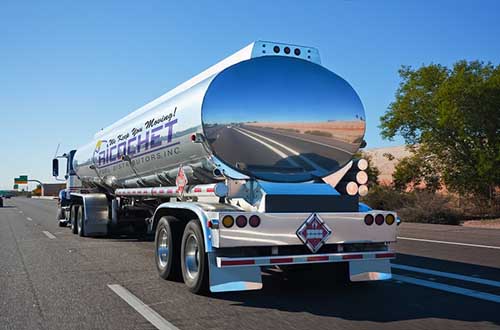 If your company uses bulk fuel to complete projects, you know the importance of having a fuel provider that you can trust. Timeliness, effectiveness, and quality are the hallmarks of a top-tier fuel provider. The team at Ricochet Fuel has been proudly offering a variety of fuel services for over 30 years.
Offering a suite of services ranging from bulk delivery to on-site tank installation and refills, Ricochet Fuel has everything you need to keep your fleet moving. Read on to discover the variety of services we offer for clients across the country – and learn how you can partner with our team today.
The Bulk Fuel Services You Need – And More
As one of the leading fuel service providers in the United States, Ricochet Fuel is proud to offer various services to clients across state lines. From bulk and emergency fuel deliveries to on-site fuel services, Ricochet Fuel's team of skilled and experienced service experts will work tirelessly to ensure that your company has the fuel it needs to complete every job and project.
Bulk Fuels Delivered
The hallmark of Ricochet Fuel, bulk fuel deliveries are what we do best. With over 30 years of experience delivering quality fuels to companies and teams across the region, you can trust us to deliver your bulk fuel on time, every time.
Our team of experienced drivers will deliver bulk fuel orders via bobtail, wet hosing, or transport. If you need bulk fuel orders quickly, we offer emergency fuel delivery services 24 hours a day – 7 days a week.
Dyed Diesel
If you are ready to take advantage of diesel fuel savings, look no further than dyed diesel. A cheaper alternative fuel, dyed diesel, is taxed less than typical diesel as it is not utilized for road travel by average vehicles. By using dyed diesel for your projects, you can save an average of 40 cents per gallon – which can add up to huge savings when operating multiple pieces of equipment at various job sites!
Contact the Ricochet Fuel team or visit us online to learn more about our dyed diesel delivery options for your job needs.
On-Site Tanks
If your team operates fuel-powered equipment at job sites, having an easy access fuel tank is essential for staying productive and reaching deadlines.
With a series of on-site fuel tank services, we will ensure that your teams have the fuel they need to get the job done.
Whether you need a temporary fuel tank or a permanent installation, you will find a variety of high-quality single-walled, double-walled, and concrete vaulted fuel tanks that can be delivered on-site for fast fuel access.
Fuel Cubes
An innovation in on-site fuel storage tanks, Fuel Cubes offer increased levels of security and portability. Fuel Cubes come standard with a pump, lockbox, and containment system that features a double-walled build for increased safety and stability.
Every fuel cube can be directly connected to a diesel-powered machine and fueled using a manual or electric pump, increasing the fueling process's safety and effectiveness while reducing the risk of waste or spill.
If your company needs fuel for on-site projects, check out the Fuel Cube options available at Ricochet Fuel.
Fuel Cards
Did you know that one of the most significant losses your company can face comes from fleet employees taking advantage of their stops at the pump? If you want greater control and access to the fuel purchases that your team members make every day, Ricochet Fuel will help you with a fuel card program.
In a partnership with CFN FleetWide, companies that use Ricochet's Fuel Cards can access over 57,000 premier fueling stations across the country. With a centralized data system, owners can monitor and manage the fuel costs that their teams incur and have better control over the price they are paying at the pump.
Companies that choose fuel card systems can see savings of up to $1,080 per truck every year. Don't let the unknown steal away your profits – take control of your fuel expenses with the Ricochet Fuel's Card system.
On-Site Refueling
As an alternative service to fuel cards, Ricochet Fuel offers a unique on-site refueling service that will ensure that your fleet of vehicles or equipment stays filled through wet hosing services at job sites.
Our mobile refueling services are a great way to help keep your projects moving efficiently. A mobile fuel transport will travel to your location or various job sites to offer refueling services – helping take one more item off your checklist for your projects.
Wondering if on-site refueling is right for your company? You can complete a free cost savings analysis on our website here.
Generator Fills
If your business faces an unexpected loss of power, valuable data can be at risk of loss, and you may face unknown periods of downtime. Whether due to a natural disaster or accidental power loss, having a reliable on-site generator is essential for helping keep your company moving no matter what happens.
At Ricochet Fuel, our team of fuel delivery specialists will help ensure that every generator on your property is filled. No matter the size or style, you can navigate the unknown and unexpected with the confidence that comes from a reliable backup generator.
Serving the great state of Texas and the surrounding region, our team of Fuel Project Managers will create a customized and timely solution that includes:
Generator fuel refills
Consistent fuel level monitoring
Removal of stagnant fuel through fuel polishing services
Emergency Fuel & Services
In your business, you try to plan for every potential possibility. However, emergencies will happen, and when they arise, you should trust your fuel provider to be ready to meet any need quickly.
Ricochet Fuel's emergency services team is at the ready to help clients when the unexpected occurs. Whether you face a crisis or are the victim of a natural disaster, our network of fuel service experts across the country is equipped to respond to emergencies at a moment's notice. When you partner with Ricochet Fuel, you can trust that your fuel provider is ready to offer a variety of services when they are needed – 24/7.
Generator fuel top-off service before, during, and after an emergency
Emergency mobile fuel tanks for on-site access
Tank delivery to various business and on-site locations
On-time delivery of fuel with real-time notifications of delivery
Electronic tank monitoring to provide preemptive refill notifications
Let Ricochet Fuel Keep Your Business Running Great in 2021
Since 1988, Ricochet Fuel Distributors, Inc. has been supplying bulk fuel. We service Texas and 18 additional states with fuel cards available nationwide. We'd like to make you one of our satisfied customers too. For your bulk fuel tank testing, cleaning and repair, contact Ricochet Fuel today.
Learn How Ricochet Fuel Can Make Your Job Easier
Call Today for a Risk-Free Fuel Quote:   800-284-2540