Skip to Content
FuelCubes vs Traditional Fuel Tanks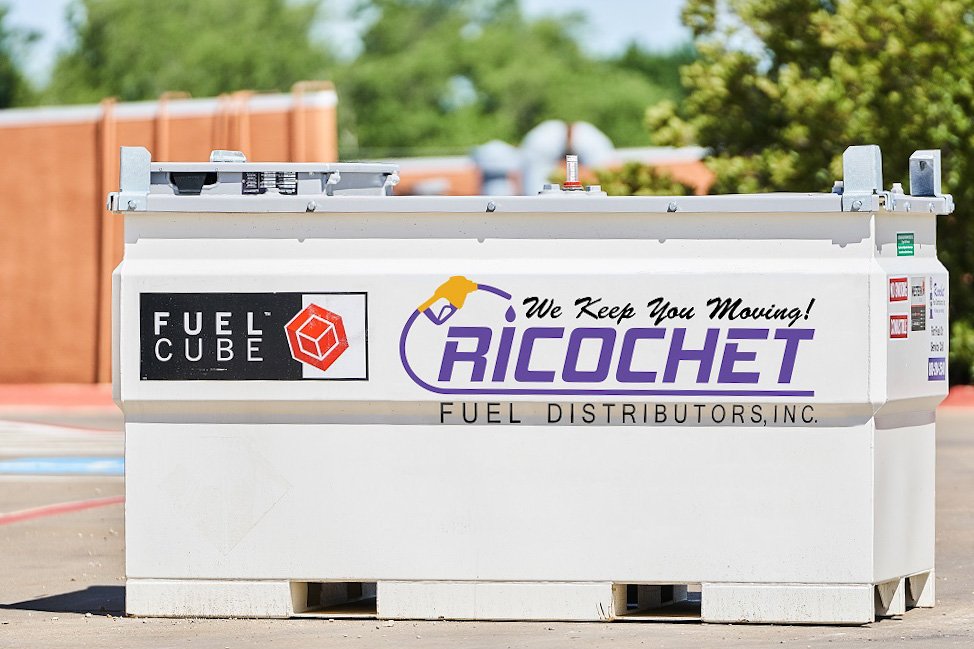 Not sure of which fuel tank style to choose for your business needs? Read below to learn the difference between traditional fuel tanks and the modern FuelCube.
Whether you are running a fleet of vehicles across the country or operating machinery on a job site, fuel access is essential. Having to visit filling stations to access fuel frequently can waste both time and money – something you cannot afford in today's competitive market.
Many companies are opting to purchase on-site fuel tanks that act as a fast and easy fueling method to avoid having to visit a physical location to stock up on fuel continually. A conveniently located fuel tank can be a lifesaver for many companies. Having an onsite tank reduces the time spent seeking fuel from other sites or making pit stops at fuel stations during transportation hours.
Today's modern fueling companies – such as Ricochet Fuel – helps businesses and organizations access on-site fuel through various fuel tank styles. Fuel tanks are an excellent option for helping keep your company running with high-quality fuel while boosting team morale and productivity.
However, not every fuel tank offers the same services and capabilities, and depending on your circumstances, one option may be better than another.
At Ricochet Fuel, two of our most popular fuel tank services are traditional fuel tanks and FuelCubes. Read on to learn more about each and how their unique services may suit your needs.
Traditional Fuel Tanks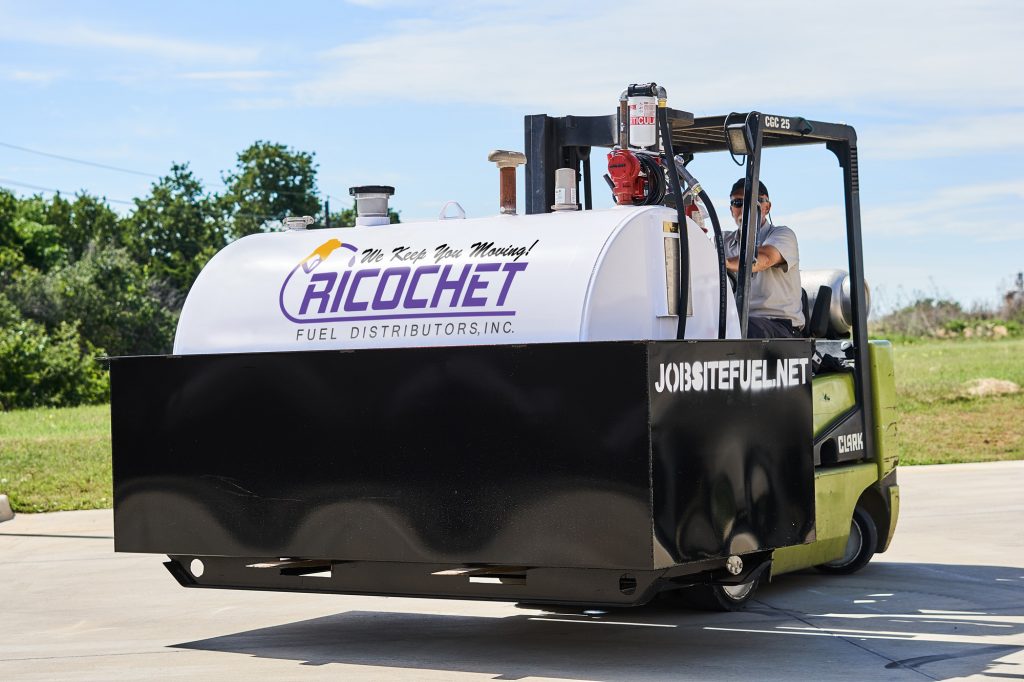 The most common on-site fueling solution on the market today is a traditional fuel tank. Having been around for many years, not much has changed about the standard fueling tank, making these options easily accessible to nearly any industry.
Traditional fuel tanks come in many sizes and styles. Most traditional fuel tanks will offer a variety of makes, including single-walled or double-walled, as well as concrete vaulted tank options for long-term on-site fueling.
The size will vary across both brand and style of fuel tanks. Tanks are often available in 1K to 10K fuel capacities. Different sizes will suit various industries – from on-site refueling of machinery or generators to fueling larger trucks.
Traditional fuel tanks allow team members to access fuel quickly and reduce the time and money spent on labor and paperwork by avoiding gas stations. Many fuel tank companies also offer bulk-fuel pricing strategies – perfect for those companies looking to save money on their fueling.
While traditional fuel tanks are beneficial, they are also bulky and risky to have on-site. Having multiple fuel tanks on location may create spacing issues. Traditional fuel tanks often require consistent maintenance to keep them clean. Standard fuel tanks must be pumped out, and many come with containment pans that must be monitored.
A significant issue that traditional fuel tanks face is security. With the pump easily accessible on most traditional tanks, thieves can quickly gain access to any fuel tank that is not securely locked up and monitored – costing you valuable fuel and peace of mind. If you have a traditional fuel tank on your property, you will likely require extra security to ensure that fuel is not stolen. This may require you to invest in more security systems – including lighting, cameras, and labor hours – to keep the unit protected.
Traditional fuel tanks offer a company or organization many benefits over having to depend on fueling stations. However, they still have some potential pitfalls. For those looking to take advantage of a fuel tank while avoiding these potential issues, you may benefit from a Fuel Cube.
FuelCubes
A FuelCube is a more modern style fuel tank. It's a static fuel tank that has been upgraded to offer a variety of benefits that outweigh traditional tanks.
FuelCubes are uniquely designed to be compact, making them the perfect solution for limited space sites. With their size, many fuel cubes can be stacked together, increasing the amount of available fuel without compromising space. Also, the fuel cube's smaller size allows for increased mobility, as fuel cubes can be moved with a forklift rather than having to depend on access to a fuel truck to refill the unit.
While traditional tanks come in various styles, FuelCubes are manufactured with double-walls, which removes the need for containment or spill pans. That reduces the need for constant maintenance, cleaning, and monitoring. As a compact and safe solution, FuelCubes will save your company time and money in the long run over a traditional fuel tank.
FuelCubes also offer a higher level of security and safety than the traditional fuel tank. Every FuelCube is built with a sophisticated security system that will prevent unauthorized users from accessing the fuel inside. Access to a Fuel Cube pump is only available when the FuelCube is unlocked, adding another layer of security to this all-in-one fuel solution.
Which Fuel Tank Should I Choose?
As you can see above, both traditional fuel tanks and FuelCubes offer their unique benefits. In general, FuelCubes can be a better option for some businesses and organizations, as they provide a more secure solution that will save you labor hours and money in the long run. The ability to quickly access and move Fuel Tanks also increases the benefits of these smaller units.
However, many companies still utilize traditional fuel tanks due to the high availability and generally less expensive cost. If you are willing to stay ahead of the potential maintenance issues that come with an older fuel tank style, you can save money over the more modern FuelCube in the short term. The cost will quickly rise if you are faced with constant cleaning and refilling issues.
Choosing the right fuel tank option for your business needs may require you to look at your current organizational needs and on-site setup. If you are struggling to find space to place a larger traditional fuel tank, you may need to consider one or several smaller FuelCubes to keep fuel available without losing space. No matter your choice, working with an experienced and skilled fueling company will help you find the perfect tank option for your unique needs.
Let Ricochet Fuel Keep Your Business Running Great in 2021
In the new year, having a fuel system in place that is reliable and durable is essential. If the past twelve months have revealed anything, it's that the unexpected can throw you off with little warning.
Since 1988, Ricochet Fuel Distributors, Inc. has supplied high-quality bulk fuel to companies across our community. We proudly service Texas and the surrounding states of Arkansas, Louisiana, New Mexico, Oklahoma, Georgia, Iowa, Kansas, Missouri, Ohio, Pennsylvania, South Carolina, and Wisconsin. We'd like to make you one of our satisfied customers too.
If you would like to learn more about fuel tank options or take advantage of our bulk fuel tank testing, cleaning, and repair services, contact the team at Ricochet Fuel today.
Learn How Ricochet Fuel Can Make Your Job Easier
Call Today for a Risk-Free Fuel Quote:   800-284-2540