Skip to Content
Supplying Dyed Diesel for NA's Largest Crawler Crane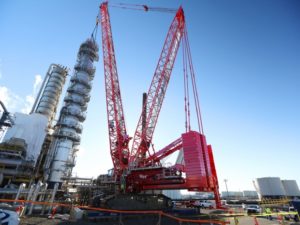 Obsessed with Mega Machines? Meet the Manitowoc 31000!
Texas Ranger's fans are anxiously awaiting the opening of their new stadium in Arlington, but you don't have to wait until opening day in 2020 for jaw-dropping excitement.
Baseball fans and non-baseball fans alike are discovering the Manitowoc 31000, the world's largest crawler crane and a surefire grand slam!
Check Out the Largest Crane in North America
Ranger's fans are raving about the Manitowoc 31000. Not only is it the biggest North American conventional crawler crane, but it was also built in the USA!
Before arriving at Globe Life Field, it was poised and waiting silently for its next mega-adventure in an Atlanta storage yard. This massive crane had just finished installing the retractable roof for Falcon's Mercedes Benz Stadium in Atlanta.
This crane was the exact one needed to install the retractable roof at Globe Life Stadium, and it was waiting only 800 miles away in Atlanta!
The Crane's Journey to Arlington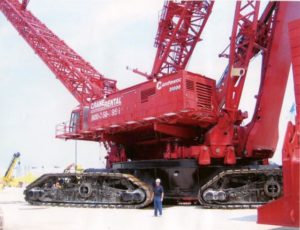 At 3,000 tons in weight, the Manitowoc 31000 is BIG. How big is that? It is the same weight as 20 blue whales which weigh an average of 300,000lbs.
With great size comes great strength, it can lift 5 million pounds; that's equal to about five 747 airplanes!  Once set up, the Manitowoc 31000 covers almost the entire baseball infield.
The max boom length is 345 feet or the length of a football field. Now, that's one MEGA MACHINE.
How do you move the biggest conventional crawler crane over 800 miles from Atlanta to Arlington? It sounds like a daunting task, doesn't it? By using approximately 150 trucks, the crane can be disassembled and moved…very slowly and carefully.
You can see in this transport and assembly video the size of each major part of the crane. That gives you a good idea of why 150 trucks are needed to transport it.
Once it arrived safely in Arlington, it took over two weeks to set it up with two smaller cranes being utilized to work on it.
Globe Life Field Webcam
If you can't make a visit in person to the construction site, you can actually see a panoramic view of the construction progress at Globe Life Stadium in this webcam. The webcam footage will give you an idea of the sheer massiveness of the crane.
If you visit the job site, as you're approaching, you'll see the crane from miles away; just look for the tallest thing on the horizon. Once you arrive and get up close, regular earthmovers that were previously "thought to be big" look like a little boy's favorite toy next to the Manitowoc 31000.
Globe Life Field Opening
Set to open around April in 2020 for major league baseball season, this stadium will hold a massive number of fans at 41,000 seats. It has a transparent roof and walls of glass.
The construction of the transparent retractable roof takes approximately 12 months and requires the Manitowoc 31000. The roof is the main feature of this massive stadium for the Texas Rangers.
How Do You Keep It Running?
This crane has a diesel fuel tank that can hold 600 gallons! By comparison, an F350 holds approximately 34 to 48 gallons. And who supplied that diesel fuel? Ricochet Fuel, that's who.
Maybe you aren't fueling North America's largest crawler crane, but Ricochet Fuel still has your fueling needs covered regardless of size.
Ricochet Fuel has been in business for 30 years and services Texas, Arkansas, Louisiana, New Mexico, Oklahoma, and 9 other states along with fueling some of the biggest construction sites around.
Contact us today at 833-925-5065 for your next Mega (or Mini) Job!
Learn How Ricochet Fuel Can Make Your Job Easier
Call Today for a Risk-Free Fuel Quote:   800-284-2540