Skip to Content
Top Benefits of On-Site Fuel Management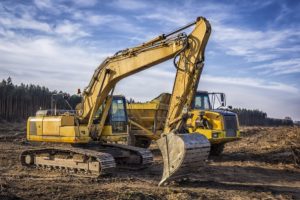 If you run a construction company, auto dealership, or transport company, what is the most economical plan for keeping your equipment and vehicles fueled? With on-site fuel management, you can save time and money with on-site fueling, on-site tank storage, or possibly a combination of both. Read on to find out what would be best for your business.
For years, companies purchased fuel and supplies at the pump or stored fuel on-site in above or below ground tanks. With on-site storage, fuel is available to service equipment and refuel vehicles 24/7. There are definite advantages to this method, but is it really the most economical, efficient, and the safest?
Save Time With On-Site Wet Hosing
What would it be like for you to arrive in your office and all of your equipment and vehicles were already filled up even before any drivers or operators arrived? Not only that, you would have received notification of
Which equipment was fueled with amounts recorded
Vehicles fueled, amounts, and odometer readings recorded
Wouldn't that be a great way to start your day instead of telling the crew to hurry and gas up and make it to the job site fast? Well, that is what mobile on-site delivery (or wet-hosing) can do for you.
Save Money with On-Site Fuel Management
Could you be losing money by not using on-site fuel management? Of course, fuels costs are an ongoing operating expense. But rather than just looking at the price per gallon, it's important to consider other costs. What about time?
Think about how much you pay your staff per hour. Now, what if your drivers take too much time at the gas station and aren't being efficient? How much does that add to your bottom line? Rather than spending time trying to figure out how to pay less per gallon or how to use less gas, consider saving time and money with on-site fueling.
With on-site fueling, fuel is purchased on the open market from various suppliers, and since this is a competitive market, you can save money when prices are low. Another option to consider is having a fuel contract with fixed pricing for a period. Fixed pricing helps your fleet manager manage costs better.
Reduce Maintenance Costs with Mobile Fueling
When gas is delivered to each vehicle, you can cut an average of five miles per day of driving by eliminating trips to the gas station. Five miles might not sound like much, but it adds especially if you have a large fleet. Plus, when you take advantage of wet-hosing, vehicles will have less wear on the tires and reduced maintenance costs.
Reduce Theft with Mobile Fueling
Trusting your employees to self-fuel from the on-site tank or purchase gas on a company credit card can be risky. As much as we don't like to think about it, fuel can be stolen by employees. From filling up friends and family's vehicles to gassing up before the weekend and coming back empty your costs can go sky high if you don't maintain tight controls. Using fuel cards or on-site tanks you can expect a certain percentage of the fuel will be written off to shrinkage. Even the best-run transportation, distribution, logistics, and construction companies experience 1-2% shrinkage, and some experience much higher levels, like 5% or more. Mobile fueling handles these problems.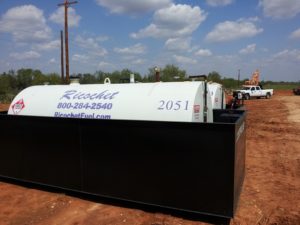 What About Above Ground Storage On-Site?
Another fuel option that many companies use is on-site above-ground storage. That can be in addition to wet-fueling where your fleet is fueled for you. If you do choose to store fuel on-site, above-ground storage has huge advantages over in-ground storage tanks.
Compared to in-ground tanks, above ground tanks are
Easier to clean
Easier to inspect
Much easier to move
Have fewer regulations
Tips to Choosing an Above Ground Tank
Aboveground fuel tanks (AST) have become more extremely popular because they cost less up front and in long-term maintenance. This type of container is much less expensive to install than an underground tank that requires deep excavating and backfilling along with several other steps.
When choosing an AST, make sure you get an AGT UL 142 double-walled steel tank that follows strict standards and exact specifications for wall thickness, fittings, and compartments. Although pump technology hasn't evolved very much over the last several years, tanks have. For example, for years fuel tanks have been round, now the trend is rectangular because they are easier to move around and stack.
The Importance of Regular Equipment Maintenance
Whether you have your fuel delivered and pumped into vehicles and equipment or utilize on-site tanks, regular maintenance must be part of your plan. With fleet management, you receive integrated fuel data that you can use to make sure your vehicles and equipment stay on a proper maintenance schedule. With fuel cards or wet-hosing, mileage entry is required every time fuel at each fill-up. After the fuel is pumped, the data goes into the fleet management system.
Tracking mileage is a critical part of having a set schedule of when maintenance needs to happen. With mileage tracking, you're not relying on someone to remember when it's time for repairs and upkeep. That's all part of an effective fleet management system. This piece alone can save you lots of money each year, especially if you have a large fleet. When preventive maintenance isn't missed, research shows that equipment and vehicles run more efficiently with better fuel efficiency.
On-Site Fleet Management Maintains Fuel Quality
If your company decides to store fuel on-site, the fleet management company will be responsible for preserving the quality of the fuel. If you're going through the fuel quickly and not taking months and months to go through a tank, quality won't be an issue. Never the less keep these points in mind:
Fuel tank filters clogging quickly – have it checked out, there could be an issue.
If it's extremely hot or humid and fuel isn't being used, have it checked for quality.
For sure, you should have samples tested one or two times a year or even quarterly.
If you suspect water in the tank, have it checked right away to prevent microbial activity.
Leaders in On-Site Fuel Management
Ricochet Fuel Distributors, Inc. is the leading bulk fuel distributor in Texas and across the Southwest. We have been the trusted provider of fuel and diesel solutions for construction, agricultural, commercial, and industrial businesses for more than 30 years. Find out about everything Ricochet Fuel has to offer your business from our Bulk Fuels and Fuel Services Brochure.
Call (833) 925-5065 for a no-obligation free fuel quote!
Learn How Ricochet Fuel Can Make Your Job Easier
Call Today for a Risk-Free Fuel Quote:   800-284-2540