Skip to Content
What Are the Top 3 Ways to Get Dyed Diesel?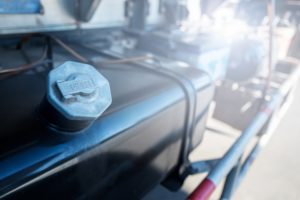 Off-road diesel fuel, sometimes called red and dyed diesel is used for off-road vehicles only. For example, agricultural and construction equipment like forklifts and heavy equipment along with generators and refrigerators use dyed diesel. This type of fuel is tax-free. It is not designed for vehicles operated on highways that are funded with our taxes. Because of its tax-exempt status, cities and states across the country have special requirements for both fuel distributors and buyers.
Ricochet Fuel provides tax-free off-road diesel in all size quantities. Read on to find out the three ways this Texas diesel fuel supplier delivers low-cost alternative fuel where it's needed.
On-Site Fuel Tanks
Are On-Site Fuel Tanks Right for Your Business?
If you want to be efficient, prevent theft, and save money the answer is yes.
Efficient: On-site fuel storage can save you and your crew loads of time, making it a very beneficial option. No more wasted time driving to off-site locations to fill up. In addition, long out of the way re-fueling detours can be avoided. More time will be spent on paying jobs which means more profit.
Money Saving: Having on-site fuel storage could save your business money. That is especially true when it's combined with an effective fuel management system. You can also enjoy lower prices when you buy in bulk. And, when you have an excellent relationship with your supplier, you can make sure you're covered under any and all circumstances such as natural disasters like hurricanes.
And, with a fuel management system, you will be able to keep track of fuel usage and how much is in your tanks. This helps to predict future expenses more efficiently, giving you better control over your finances.
Prevent Theft: Although it's not a pleasant subject, fuel theft is common for many businesses. Often it involves workers taking advantage of the company's fuel cards or allowances for personal use. This type of theft can be hard for companies to identify and handle. Staff may even be passing along their fuel cards to family and friends.
When you have drivers fill up their vehicles on-site, you can prevent theft and abuse. Since you can monitor who is using fuel, how much, and when. You gain back control.
Fuel Storage Tanks Big – Bigger – Biggest
Fuel storage tanks come in all types and sizes depending upon what a company needs. A reputable fuel provider will go over your options and tell you what would be best for you. At Ricochet we provide:
Single-walled tanks
Double-walled tanks
Concrete vaulted tanks
UL142 tanks
UL2085 tanks
Sizes from 275 to 20,000 gallons
Containment pans
Propane Tanks
Diesel Exhaust Fluid (DEF) tanks
Quality electric pumps (12, 115, 230 volts)
All pumps have auto shut-off nozzles available
An added benefit of on-site tanks is a remote fleet management system that monitors fuel levels 24/7 so you will never run out.
Wet-Hosing
What is Wet-Hosing and How Can You Benefit?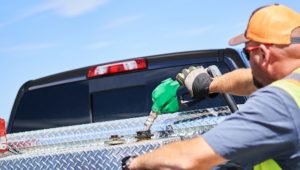 Mobile fueling is also known as on-site fueling or "wet-hosing." With this type of delivery, a fuel truck comes to your business or job location and gasses up the equipment and vehicles. This can include heavy equipment like dozers, cranes, and forklifts. Wet-hosing is perfect when you don't have the room for a tank on-site.
When you have a remote fuel management system like Ricochet's, the driver will already know which vehicles or equipment need fuel. The fueler keeps track of how much diesel is filled and records it in your fuel inventory system.
Two of the most significant benefits of this type of onsite fueling are convenience and cost control. Having diesel fuel delivered to your designated location, vehicles filled for you, and fill amounts recorded, saves you and your crew tremendous amounts of time and removes the problems of theft and misuse.
An additional advantage with fuel-control is you can make sure whatever gas is being used can be accounted for. But remember, if drivers are using much more gas than would be expected, you might want to keep an eye out for siphoning. For example: if they should only be using 1/3 of a tank but comes back almost empty – that's a red flag.
Wet hosing also saves money since you're not having to pay your crew for the time it takes to gas up. This could be a real-time saver when job sites are remote. Ricochet Fuel offers wet-hosing along with automated fuel management. See how much you can save with this wet-hosing calculator.
Fill Up at the Pump
Dyed Diesel at the Pump Is Still a Good Option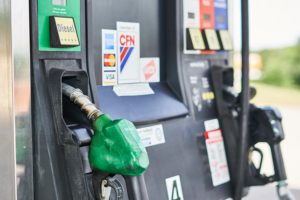 When you're on the road, finding high-quality red diesel can be a hassle. Here's a list of Ricochet's 15 Texas Dyed Diesel at the Pump locations where you can get your dyed diesel fast. Ricochet Fuel also has a handy interactive Dyed Diesel map for locations and directions.
| | |
| --- | --- |
| ● Arlington – 3100 Dalworth Avenue | ● E. Fort Worth – 7350 Sand Street |
| ● Austin – 4906 Burleson Road | ● N. Fort Worth – 3701 N Sylvania |
| ● Austin – 9000 Jonny Morris Road | ● Garland – 3526 Security |
| ● Cleburne – 1101 S Main Street | ● Houston – 227 McCarty |
| ● Dallas – 1920 N Westmoreland Road | ● Pecos – 1233 Oil Mill Road |
| ● Dallas – W Ledbetter Drive | ● Pflugerville – 1701 Grand Avenue Parkway |
| ● Dell City – 401 S Main Street | ● San Antonio – 5223 Tex-Con Road |
| ● Euless – 1201 Royal Parkway | |
Stop by any of these locations to fill up your truck and truck bed tanks. You should also take advantage of our fuel cards to keep your crew gassed up when they're on the road.
Ricochet Fuel has been keeping businesses moving for 30 years. Our success in Texas has paved the way for us to extend our service area to our surrounding states and beyond! Ricochet Fuel is licensed to supply fuel in 14 states and can service fuel cards across the United States! Contact us today to see how we can help your company.
Learn How Ricochet Fuel Can Make Your Job Easier
Call Today for a Risk-Free Fuel Quote:   800-284-2540