Skip to Content
3 Pros of Propane for Your Fuel Supply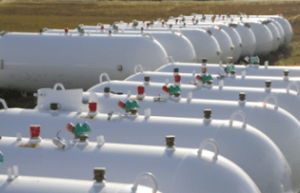 Top 3 Advantages of Commercial Propane Delivery
What are the main benefits of having commercial propane delivered to your business? From contractors, builders, and developers to industrial manufacturers propane delivery can help keep your production moving along.
Discover three of our top uses for propane in today's blog post, compiled by the fuel experts at Dallas-based fuel service provider, Ricochet Fuel. 
Fast & Convenient Jobsite Heating
If your company does most of your work outdoors, you know firsthand the challenges of winter weather. Productivity decreases while expenses increase. Even working indoors during the winter can be chilly. Keep crews productive and moving all year-round with an efficient and economical propane-powered job site heating system. They are ideal for outdoor jobs exposed to colder temperatures. Smart developers and builders plan-ahead for their commercial propane delivery needs. They make sure their temporary heating equipment never runs dry. From job site heating to installing an entire community or a single-home, propane system delivery is a time-saver. Plus, according to the U.S. Department of Energy propane is clean and better for the environment. They also say: "Propane is frequently used to replace gasoline in smaller applications, such as forklifts and commercial lawn equipment and it provides benefits similar to those achieved in on-road vehicles."
Efficient Fuel for Engines & Forklifts
Did you know that there are around 200,000 on-road propane-powered vehicles in the United States? Light and medium duty propane-fueled vehicles are becoming increasingly popular especially for construction companies, law enforcement, and government fleets. If your company's fleet is looking for a fuel alternative find out more about liquefied petroleum gas (LPG). Additionally, in the US there are 600,000 propane-operated forklifts. Reliable Indoor and outdoor propane forklifts operate at 100% capacity during the entire job which gives them an advantage over electric forklifts. Setting up a standard alternative fuel delivery ensures there is no slow down of production because of lack of fuel. Other vehicles that operate on diesel can also benefit from delivery. Some examples are school transportation like buses, food and beverage companies, delivery services, and towing companies.
Alternative Fuel for Industrial Goods Manufacturing
Many companies rely on propane to manufacture their product. Propane is economical, eco-friendly, trusted, and reliable. With this clean alternative fuel, industrial machines can be refilled easily anywhere from woodshop to your warehouse. Plus, once your product is produced, propane gives lifting equipment the power to maneuver steep ramps and tight spaces while lifting up to 5,000 lbs.
If your company is interested in this clean alternative fuel contact Ricochet Fuel today for more information about how our propane powers customers nationwide. We've been in business for 30 years and service Texas, Arkansas, Louisiana, New Mexico, Oklahoma, and other states.
Learn How Ricochet Fuel Can Make Your Job Easier
Call Today for a Risk-Free Fuel Quote:   800-284-2540