Skip to Content
Top-Quality Fuel Tanks at Your Convenience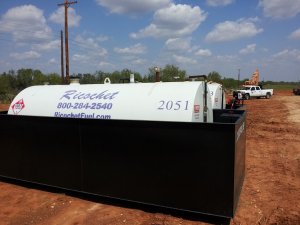 Top-quality Fuel Tanks at your Convenience
Bring the exceptional quality and convenience of Ricochet Fuel to your home or job site. Ricochet Fuel offers reliable service and top-quality fuel tanks to customers for a loan.
Rules for fuel tanks
As you prepare to install your fuel tank, it's important to be aware of the differences between single and double-walled fuel tanks. This will allow you to best determine which tank is fit for your unique needs.
The SPCC requires…
A secondary containment system to minimize the possibility of an oil leak
Specific regulations regarding the installation and management of the fuel tank. Ricochet Fuel can help you determine these prior to installation.
Learn Even More & Get Questions Answered at Ricochet Fuel's On-Site Tank Content Hub
Single-walled tanks, double-walled tanks, containment pans: What's the difference?
Due to safety regulations, most single-walled tanks are not permitted without the installation of a secondary containment system. In some cases, a treated concrete building can act as secondary containment for the single-walled tank. Otherwise, a fuel containment pan or tub can be utilized to prevent small oil leaks and sometimes to withstand complete tank failure.
Another option is to purchase a double-walled fuel tank, or simply, a single-walled tank with an additional wall to insure quality leak protection.
Double-walled tanks don't usually require a fuel containment pan and have the added benefit of excluding rainwater from the containment when installed from the outside. In addition, most double-walled fuel tanks include leak-monitoring provision to warn against any possible breaches or leaks in the tank.
Start with Ricochet Fuel
Ricochet Fuel has been an award-winning provider of bulk fuels, such as off-road diesel, on-road diesel, diesel exhaust fluid, and more, for over 30 years. We loan our temporary fuel tanks to our customers and are happy to help you find the best fuel tank for your unique needs. Ready to get started? Contact Ricochet Fuel today.
Learn How Ricochet Fuel Can Make Your Job Easier
Call Today for a Risk-Free Fuel Quote:   800-284-2540