Skip to Content
Dyed Diesel Fuel vs. Regular Diesel – What's the Difference?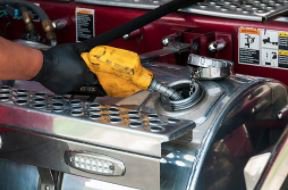 Did you know there are three types of diesel fuel ?
Off-road Diesel : doesn't have state and federal taxes. Sometimes it's called red-dyed diesel, alternative fuel, red fuel, off-highway diesel, or farm diesel. And, it's not intended to be used for vehicles driven on the road. Red dye is only for use off-road. For example: in construction red dye fuel would be used for heavy equipment like
| | | |
| --- | --- | --- |
| Cranes | Earth movers | Caterpillars |
| Loaders | Backhoes | Excavators |
| Compactors | Trenchers | Cranes |
| Rollers | Scrapers | Forklifts |
Truck Diesel : This is what long-haul truckers use. In some states, the pumps have a "tax-exempt" label on the pump. In that case, to gas up, you need a valid tax certificate posted on the vehicle you're fueling. Otherwise, you can get a big fine. Also, the truck nozzles are larger and will fill faster. Sometimes it's too quick for smaller tanks. The fuel itself is the same as automobile diesel.

Automobile Diesel : This fuel is for cars, SUVs, and regular trucks. Automobile diesel is the same as truck diesel, but the pump nozzles are not as big. And, sometimes the "automobile diesel" is priced higher than truck diesel. But, remember – to use the "truck diesel" you may need a tax-exempt permit.
Check out this video " Off-road diesel, truck diesel, automobile diesel ." Starting at 1:00 into the video, you'll see what red diesel looks like.
Can I Use Dyed Diesel in My Truck?
Legally no. And that's the reason for the red dye. The color is detectable at extremely low levels. If you're caught using off-road diesel on-road, you better get ready for a hefty fine. Other than the appearance dyed diesel isn't any different from regular diesel.
What's the Difference in Red and Green Diesel Fuel?
Besides the color, these two fuels have many similarities .
Red – used for off-road. Mainly for construction and farming. Because it's tax-free, it's dyed red for easy detection.
Green – it's not really the color green. The green diesel is clear like regular diesel. It's called green because it's eco-friendly and renewable.
Where Can You Find Dyed Diesel Fuel?
Ricochet Fuel has provided off-road diesel delivery for almost 30 years. We service Texas, Arkansas, Louisiana, New Mexico, and Oklahoma, and 9 other states with fuel cards available nationwide. We specialize in servicing the construction, auto dealerships, fleets, and power generation. We would be happy to talk to you about your fuel needs. Call us today.
Learn 3 ways how to get Dyed Diesel for you next project or job site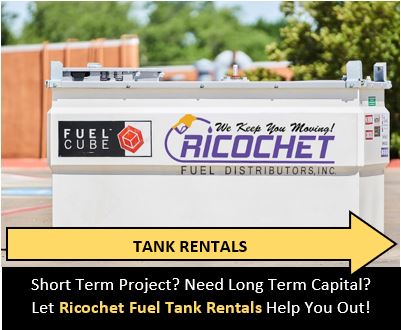 Learn How Ricochet Fuel Can Make Your Job Easier
Call Today for a Risk-Free Fuel Quote:   800-284-2540