Skip to Content
The Need to Know: Bulk Fuel Delivery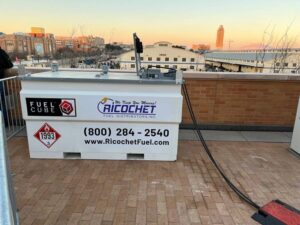 Bulk fuel delivery can be a great option for bringing fuel to your workplace and creating an on-site fueling location. Bulk fuel delivery has a lot of many awesome things going for it, like increasing workplace safety and saving everyone extra time. Read this article to find out a little bit about the beginnings of fuel delivery, how it works, risks and benefits, and how to choose the right one according to your operation.
A History of Fuel Delivery
Since before 1880, people have been transporting and delivering fuel. The very first fuel delivery services were drawn by horse and were rather dangerous and unreliable. In 1910, the first motorized fuel delivery services began and have been going pretty much ever since then! Today, fuel delivery continues to improve efficiency and safety, aiding companies in their productivity by saving them time and money. Many different kinds of companies from all kinds of different industries can benefit from bulk fuel delivery at their workplace. Bulk fuel delivery has a variety of benefits, so read on to learn more about how you can take advantage of them!
Who Can Benefit From Bulk Fuel Delivery?
You don't have to be working a high-tech or industrial job to utilize bulk fuel delivery within your workplace. Bulk fuel delivery offers a number of great perks that can help conserve important resources, allowing your company to focus on growth and big-picture-type projects. Companies and organizations like these can all benefit from bulk fuel delivery services:
Fire Departments & EMS
Emergency workers who need to respond quickly to 911 calls can benefit from having on-site fuel storage and delivery available. Not having to run out to replenish engines or ambulances means crews are able to respond faster from their stations, as well as get much-needed downtime in between calls.
Private and Public Airports
Airports are busy transportation hubs, so it is only natural that fuel should be delivered right to their service vehicles and planes. You can't exactly take a 747 to the gas station, so having a way to get bulk fuel delivered right to you is critical. Both large and smaller private airports can benefit from having fuel storage and delivery available on-site.
Municipal Services
City vehicles, like garbage trucks and public transit buses, also need an area to fuel up. So do lesser-known municipal vehicles, like animal control vans, electrical trucks, and snowplows. Having a central location where everyone can go to quickly replenish fuel levels allows vital city workers to get back to providing their essential services ASAP.
Gas Stations and Truck Stops
Of course, gas stations and truck spots must have on-site fuel storage and bulk delivery as well. Without having your most important product, fuel, you won't be able to run very many of your other operations at your gas station or truck stop. Having a scheduled delivery that you can regularly rely on can help ensure you never run out of fuel for your busy customers.
Power Plants
For Power plants, it is absolutely essential to keep business running, no matter what happens. When outages or emergencies happen, this can critically disrupt power plant operations and activities. Having on-site fuel available ensures there's always fuel for workers to access. It also means that any backup generators can be powered, ensuring any downtime remains as minimal as possible. When the fuel has to come from far away via vehicles going and fueling up, this can be extremely time-consuming. On-site fuel saves time so workers can continue vital power plant operations.
School Districts
School districts oftentimes utilize bulk fuel delivery for their vehicles. Whether it's a big yellow school bus or a maintenance van, having fuel readily available in one place can help ensure well-running logistics during the school year and beyond. In school districts, delays can quickly add up and disrupt learning. Bulk fuel delivery services help to prevent this.
Benefits of Bulk Fuel Delivery
Bulk fuel delivery can offer many wonderful benefits for your business, including:
Increased Automation
Because you and your workers won't have to drive vehicles out to the gas station in order to fuel up, you'll have more time to focus on your job duties and increase overall efficiency. In addition, having a scheduled fuel delivery can provide peace of mind, since you can determine exactly when you want it and ensure you never run out of fuel.
Saving Money
Because you are now purchasing your fuel in bulk, that means that you are also paying the wholesale price. For many businesses, this can result in a noticeable amount of savings. Most bulk fuel delivery companies offer a few pricing options or different tiers of service, so you can select the choice that best fits your business budget, size, and operations. Ask them about what bundles they offer and what they recommend for your specific business.
Increased Job Site Safety
Having trusted experts handle fuel logistics, like refilling your fuel tanks, increases the overall safety of your job site. Fuel workers are trained in things like hazardous materials handling, what to do in an emergency, as well as proper tank filling and related maintenance. Having certified professionals decreases the risk of liability at your workplace and promotes an environment of safety. Leave the fuel handling to the experts and focus on your business goals!
Potential Problems Than Can Occur
While there are a large number of benefits to bulk fuel delivery, like things, there are a few potential issues that you should always keep in mind.
Lack of Space
The number one thing to keep in mind when considering hiring a bulk fuel delivery service is that you will need ample space to install and construct everything needed for it. You'll not only need room for the pump but also room for the tanks, both above and underground. It's a good idea to either obtain or quickly draw up a map of your work location, so you can plan a few possible sites for installation. A contractor can help you plan further options before beginning any actual construction.
Upfront Costs
As with any large or long-term business investment, there is an initial upfront cost associated with switching to bulk fuel delivery. This cost will, of course, pay itself off over time, but it's good to be aware of when building your budget.
Scheduling Deliveries
With bulk fuel delivery, you will need to plan ahead when scheduling fuel deliveries and any equipment-related maintenance. Fuel trucks are large, contain hazardous chemicals, and require time and special expertise to unload. Thus your fuel delivery isn't going to be instantaneous. In fact, it can take around twenty to thirty minutes. It is imperative that you schedule deliveries and keep track of when they are arriving so you aren't dealing with issues like multiple shipments arriving at once or a blocked parking lot due to a fuel truck.
There are many benefits and considerations you must take into account when thinking about contracting bulk fuel delivery providers. It's important to weigh out the risks and benefits in regard to your specific business in order to make the best decision. If you're not sure how to get started, a comparison list or something similar is always a good idea!
Mandatory Training
Because fuel is considered a hazardous material, all employees and people working around it and handling it are required to go through mandatory training. Training requires time and money, and while important, it can disrupt your daily productivity if you don't carve out space for it in advance. Be sure to prioritize any and all training related to bulk fuel delivery to ensure this service always runs smoothly for your organization.
On-Site Fuel Delivery and Safety
On-site fuel delivery has come a long way over the years, and today, it is safer than ever. Having this option available can also create more safety in your workplace as well, not just for those who are transporting it to you. Especially in the era of COVID-19, having on-site fuel delivery services helps minimize your contact with potential virus exposure. Because your employees are also trained in how to safely handle fuel, working conditions will also be less hazardous. Minimizing risks and hazards in the workplace is always a wise idea, and on-site fuel delivery can help to accomplish this key mission.
Conclusion
Bulk fuel delivery services can be a wonderful addition to your workplace. No matter if your company is big or small, or municipal or private, utilizing fuel delivery services can aid productivity and save your workplace time and stress. When researching whether or not to add on-site fuel services, it's important to keep a few things in mind, like how many vehicles you have and the size of your work location. Taking these into account can help you make the best choice for your business. Visit us today and learn how Ricochet Fuel can help your business with bulk fuel delivery! Our friendly team can help answer any and all of your questions related to fuel and bulk fuel delivery.
Learn How Ricochet Fuel Can Make Your Job Easier
Call Today for a Risk-Free Fuel Quote:   800-284-2540