Skip to Content
What to Know Before Selecting a Fuel Tank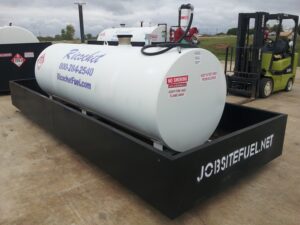 Every week, the team at Ricochet Fuel gets lots of questions about whether to get a fuel tank and, if so, which one. Today we're going to answer the top questions we get asked and give you information to help you decide which is the right fuel tank for your business.
The Hazards of Fuel Storage
The first thing to be aware of are the hazards of fuel storage and dispensing. Because of potential risks, there are lots of regulations. Make sure you know your local and national laws. Have a good grasp of the standards before you decide on your fuel storage method. When you deal with knowledgeable bulk fuel distributors like Ricochet Fuel, they can guide you. Their knowledge and experience can help you decide if a stationary and permanent tank or a portable one is best for your needs.
If you're considering fixed tanks, check with your local fire department or marshal for codes, rules, and regulations. Also, call or stop by the city or county environmental department.
With fuel storage and handling, one of the hazards is diesel spills. The fines from the EPA are stiff, and the average cleanup can run over $100k. The EPA has a helpful article: Frequent questions about underground storage tanks. Knowing the liabilities and drawbacks of fuel storage is a must, so you and your staff are educated. That way, you can prevent accidents by having best practices in place.
Capacity & Mobility
Once you've educated yourself on compliance, consider how much fuel you'll need to store for a one-month supply. That way, you won't be over-buying and letting fuel sit too long. Also, think about whether you want an onsite tank or a portable one. Large onsite tanks are the most cost-effective if you're looking to save money and don't need portability.
If you're going to move the tank to different locations, consider how you will transport the tank. Don't get one too big to move or too small for your needs. Keep in mind if you're moving your tanks to another city, county, or state, you'll need to follow their fuel laws and get any required approvals.
Think ahead and list out all the equipment and vehicles you'll need to fuel. Your requirements will be different if you have construction equipment vs. refrigeration units or event generators. Look to see if the equipment you need to fuel has unique connecting ports. Make sure your fuel tank connection will work with your equipment.
Tanks vs. Fuel Cubes
You're probably familiar with the traditional fuel tank that allows fast access that saves time and money. Many fuel tank companies also offer bulk-fuel pricing strategies – perfect for those companies looking to save money on their fueling. You see these traditional tanks in all different sizes for almost any industry. These workhorses have been around for years and come in all styles and sizes.
Some of the tank options are:
Single-walled
Double-walled
Concrete vaulted
Every brand has its sizes and style of fuel tanks, from 1K to 10K fuel capacity. If you don't have a brand in mind, let us know, and we can steer you to the best options. Even though there are advantages to onsite tanks, there are also safety and security risks plus space issues if you have a smaller site. And with any fuel storage, you'll need consistent monitoring.
If you have space limitations, traditional fuel tanks are bulky, especially with more than one tank. Before having one installed, consider the maintenance issues. The tanks have containment pans to monitor, and the tanks have to be pumped out periodically to keep them clean.
Another thing to keep in mind is security. Fuel theft is a big deal and can be very expensive. Ricochet Fuel has several solutions to help you, but you'll also need a well-lit area, fencing, and security systems that possibly include cameras.
Traditional fuel tanks, even with their disadvantages, have many more benefits. That's why they are the choice for farms, construction, and companies with large fleets. If you want something more portable or are limited on space, consider a FuelCube.
Advantages of Modern FuelCubes
Now let's talk about the modern fuel tank — the FuelCube. In many ways, this tank style has unique benefits a traditional one can't offer. Here are the main advantages:
The compact size makes them the best choice for sites with limited space.
Because the tanks are square (instead of round), you can stack them saving even more room.
Smaller sizes are easy to move with a forklift, so you don't need to worry about refueling access.
All FuelCubes have double walls, so you don't need a containment or spill pan, which means less monitoring, cleaning, and maintenance.
FuelCubes are more secure than traditional tanks and can prevent unauthorized usage. Each cube is locked — preventing access and adding even more security.
What's Best for Me? Tank or Cube?
Many businesses will have an idea whether a traditional tank or FuelCube will work better. But, if it's a toss-up — consider the unique benefits of FuelCubes. With the added security, mobility, and space-saving design, you could save time and money.
If saving money is your top concern and you have staff that will monitor fuel distribution, the traditional tank may still be your best option. You're always welcome to contact Ricochet Fuel to answer any questions and go over your options. We can take a complicated situation and come up with the best solution.
Ricochet Fuel Has The Answers You've Been Looking For
Since 1988, Ricochet Fuel Distributors, Inc. has supplied high-quality bulk fuel and fuel storage options to companies across our community. We proudly service Texas, the surrounding states of Arkansas, Louisiana, New Mexico, and Oklahoma, and 15 more. We'd like to make you one of our satisfied customers too. Contact Ricochet Fuel today.
Learn How Ricochet Fuel Can Make Your Job Easier
Call Today for a Risk-Free Fuel Quote:   800-284-2540