Skip to Content
How Yard Tanks Can Help Your Company During the Pandemic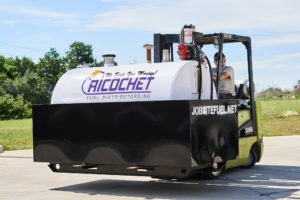 Have you ever thought of adding a yard tank or an on-site fuel tank to your business, but haven't pulled the trigger yet? There are a lot of advantages, especially now dealing with COVID-19. Read on to learn more about the benefits of on-site fuel tanks and how installing one can save you money and protect your employees during the pandemic.
In times of disasters, including hurricanes, floods, and pandemics, it's vital that all businesses (especially essential) can easily access fuel. Perhaps now is the time to consider installing an on-site fuel tank at your place of business. It's a move that can protect both your team members and your bottom-line.
The Benefits of On-Site Fuel Tanks
The CDC (Centers For Disease Control and Prevention) has put in place a variety of recommendations that encourage individuals and businesses to take precautions to help stop the spread of the coronavirus. In many areas of the country, individuals are encouraged to restrict their travel to essential needs only. But businesses still need fuel to continue their daily operations, which can put business owners in an uncomfortable position. They may not want to send crew members to unsanitary public fuel stations.
Luckily, an on-site fuel tank solution may be just what your company needs. With an on-site fuel tank, you can ensure that the gas or diesel fuel your team needs for any job is on location, ready to use any time. That prevents putting staff at risk using public gas stations to refuel. Your team members will appreciate it during the pandemic and after it passes when we're back to normal.
Not only can you keep fuel close at hand, but you can also save money during the global oil market's roller coaster of price changes. Instead of worrying over unknown fuel budget numbers, you can keep your tank on-site, unphased by wild fuel cost changes. With a variety of customization options that we tailor to your specific business needs, you can monitor fuel levels remotely and keep costs low over the long-term. Every on-site fuel tank also comes with a team of experts who are ready to assist you with any needs in the life of your tank.
The COVID-19 pandemic has caused many business owners to reevaluate how their daily operations are carried out, and many are making moves toward sustainability and efficiency. By adding an on-site fuel tank to your business, you can take a step in the process of keeping your company ahead of the curve.
When the pandemic begins to pass, you will reap the benefits of helping your company be better prepared for the future. With the benefits listed above – and many more, it may be time to consider contacting Ricochet Fuel to discuss adding an on-site fuel tank.
For over 30 years, Ricochet Fuel has supplied bulk fuel. We proudly service Texas and the surrounding states, including Arkansas, Louisiana, New Mexico, Oklahoma, Georgia, Iowa, Kansas, Missouri, Ohio, Pennsylvania, South Carolina, and Wisconsin. Even during uncertain and unexpected times, you can trust that our team is poised to help you navigate a new operational reality. To learn more about the process of selecting and installing an on-site fuel tank, contact Ricochet Fuel today!
Learn How Ricochet Fuel Can Make Your Job Easier
Call Today for a Risk-Free Fuel Quote:   800-284-2540