Skip to Content
Six Big Reasons to Use Ricochet Fuel Distributors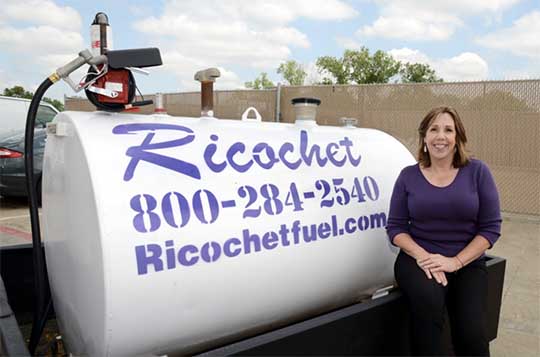 At Ricochet Fuel, we know businesses have many options on where they can purchase their fuel. With all gas, diesel, and propane being equal and with prices always being within fractions of a cent, how do you choose the fuel distributor your company will hire to keep moving? Ricochet Fuel sets itself apart with its national reach, innovation, experience, customer service, and emergency response.
Read on to discover the Ricochet Fuel difference and the six reasons we're your best choice.
#1 Expert-Approved
Who do the experts and professionals call when they need a reliable fuel distributor? Ricochet Fuel, that's who! We have many ongoing city and government contracts for fuel delivery. We deliver for
Oncor
Procter & Gamble
Lockheed Martin
And more!
And when North America's largest crawler crane needed dyed diesel delivered – they contacted Ricochet Fuel.
As you can see, when these big companies can't afford to be without fuel, they know they can rely on Ricochet.
#2 National Reach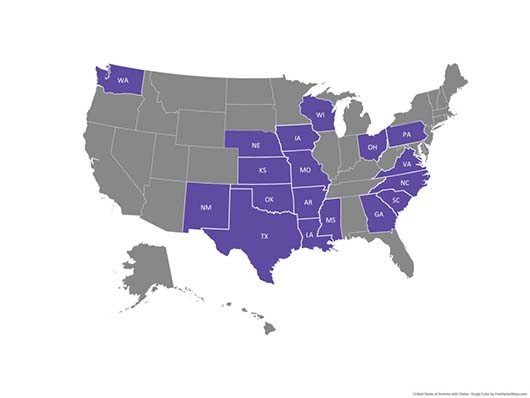 Ricochet Fuel continues to expand its service area beyond Texas and the southwest. Plus, fuel cards are available nationwide. The excellent service, bulk fuel, and friendly faces you have come to appreciate in our original Texas service area are now available throughout the United States, including:
Georgia
Iowa
Kansas
Mississippi
Missouri
Nebraska
North Carolina
Ohio
Pennsylvania
South Carolina
Texas
Virginia
Washington State
Wisconsin
And we always provide fuel cards across the country! We're proud to be servicing 18 states and we're continually growing.
#3 Experience
Ricochet Fuel has been delivering bulk fuels for over 30 years! Kelly Roberts has been Ricochet's sole owner since its inception. So that's another way we set ourselves apart in this male-dominated industry. Ricochet is a 100% Women-Owned business.
Knowing the industry and how to service customers right is paramount, along with picking the right team members. That's why many of our sales team have over 20 years' experience in the fuel industry.
#4 Leading the Way
Ricochet Fuel was one of the first to offer remote cellular monitors on their fuel tanks. That way, we could remotely monitor our customer's fuel levels and send supplies when needed. That added convenience is what sets us apart.
Additionally, we were one of the first to offer the Fuel Cube an all-in-one alternative to traditional fuel tanks. Fuel Cubes provide increased security and portability as compared to standard bulk tanks. Plus, the cubes come with a containment system, pump, and lockbox providing an all-in-one fuel storage solution. These cubes work exceptionally well in tight spaces where traditional fuel tanks are not feasible.
Plus, Ricochet Fuel was one of the first providers to offer free loaner tanks with fuel usage.
#5 Customer Service You Can Count On
Our customers know the Ricochet difference. It's our team and our attitude! From Admin to Service, everyone at Ricochet goes above and beyond to keep our customers happy.
We offer the One-Stop Fuel Solution for everything from service to
Fuel cubes
Emergency fuel
Propane & kerosene
#6 Emergency Response
Ricochet Fuel offers 24/7 dispatch and service during all situations. Our expansive network allows us to respond quickly and safely to our customers' emergency needs. Ricochet Fuel has won numerous awards for our quick, efficient, and timely response in emergencies or natural disasters.
We're here to help – whether it is a hurricane, power outage, flood, tornado, wildfire, or ice storm. Emergencies beyond your control can happen at any time–Ricochet Fuel is prepared to help you by making sure you have the fuel you need when you need it.
Our team will handle all of your fuel needs, so you can take care of your customers.
Ricochet Fuel has all the resources to meet your company's needs. That includes equipment, experience, services, and quality fuel. We service Texas and the surrounding states of Arkansas, Louisiana, New Mexico, Oklahoma, and more. We want to make you one of our satisfied customers too. For your bulk fuel needs, contact Ricochet Fuel today.
Learn How Ricochet Fuel Can Make Your Job Easier
Call Today for a Risk-Free Fuel Quote:   800-284-2540